Singing Out Of Tune?
Is Time Wearing On Your Voice?

In this video you'll watch singing coach Roger Burnley answer the following question:
"Why have some of my favorite singers begun to struggle with their voices as they are getting older?"
"Why do they struggle with their vibrato and singing in tune?"
The Secret To Star Singing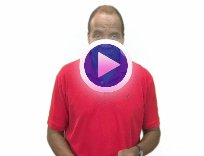 As you see in this video Roger points out that in every case (when a singer begins to struggle as they get older) there is something in the way they are physically producing their sound that is off.
In many situations it's not even something big. There can be a small thing that's going on that will take time to surface. And then after literally years the singer begins to notice their voice deteriorating.
This is why it's so important to put some effort into developing vocal technique that will keep the voice in top shape.
Roger also explains that if you do build that correct foundation in your voice, you will have no problems whatsoever. In fact, when you're 80 years old you can still be singing as good as ever!
How Can You Develop Great Vocal Technique?
Learning to sing in a way that will help you maintain the quality of your voice over the long run is very straight forward.
The process is to practice exercises regularly that cause your voice to operate properly. By practicing these exercises, any bad techniques you've picked up simply melt away and after a certain amount of time you will automatically sing in a way that sounds fantastic and is also safe.
One more important point mentioned in the video is how important it is to avoid imitating singers you enjoy. The problem with this is it very likely will force your voice to sing incorrectly.
And you will undoubtedly pick up some bad habits in the process.
So you need to develop your own unique voice! This is the way you will ultimately sound your best.
For the best step-by-step training available, you can click here and get the most effective singing exercises.
Practice these regularly and within a few short weeks you'll be sounding like a new singer!
About The Author
| | |
| --- | --- |
| Roger Burnley - Vocal Coach | |
Roger Burnley is a vocal coach located in Hollywood, California. He has been teaching the voice for over 30 years and singing for even longer than that. 
Notable past and present clients include Macy Gray, Brandy, Ray J, The Beastie Boys, James Torme, Taylor Lautner, Nona Gaye, and many more.
His clients have collectively sold more than 30 million albums, with several reaching Platinum and Gold status. 
Roger has been featured on VH1, TV Guide Channel, TV One,
and MTV appearing as a vocal expert.
Hot Topics