Singing Made Easy
Hi, I'm Geoff and I'm here to help you develop a fantastic singing voice.
If you're anything like me, you've found learning to sing to be a challenge at times. But equally, you know how rewarding it will be to perform in front of friends and family... watching the impressed, even amazed looks on their faces.
... or onstage with the audience staring in wide eyed admiration as you blow them away with your dynamite performance!
QUICK LINKS:
---
Hot Topics

---
Can Anyone Learn To Sing?
No matter where you are right now, you absolutely can develop a wonderful, unique voice. I am proof of this.
I went from sounding like a "wounded animal" to having a strong, powerful voice with rich tone quality and over three octaves of vocal range. And on this website you'll discover step-by-step how I made this transformation.
Always remember, while having talent is useful, it's not the biggest factor (Many big stars couldn't hit a note in the beginning!).
So what is the biggest factor?
Vocal Technique
If you develop correct vocal technique you will develop a large vocal range, crisp professional tone quality, and complete vocal freedom.
And how do you develop solid technique?
The correct training of course!
Practice the right exercises and the end result is your voice will flourish.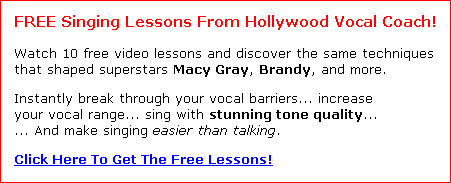 The Formula For Success?
Let me give you the three step formula that I used to go from being untalented and sounding terrible, to a voice that I'm proud to show off.
Practice exercises that help you produce your sound correctly
Understand how it feels to create sound correctly, and then apply this to songs
BELIEVE you can do this (Because you can!)
Above all, enjoy the journey!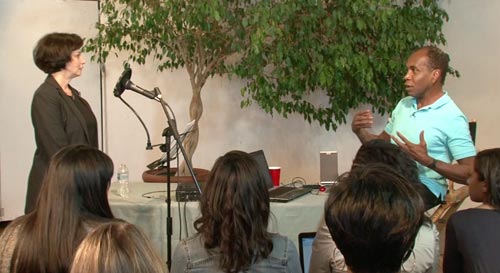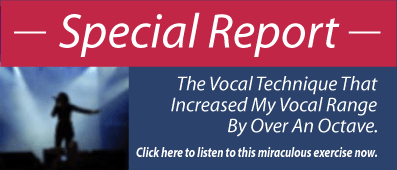 (Click the image above to view the free report)
Popular Articles
Use vocal tonality exercises to sweeten your tone
Valuable Tips to discover your "best" voice (What is your best voice?)
How to develop an outstanding vibrato